College Wrestler of the Year - 2008
Tyler McCormick
Missouri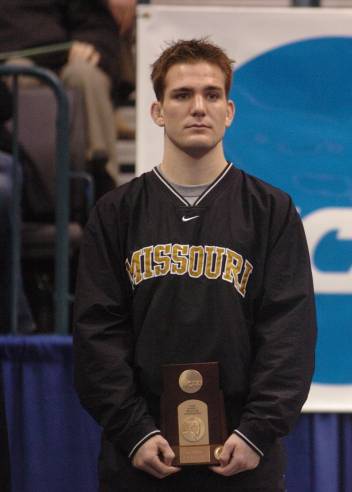 NCAA Division 1 All-American Tyler McCormick's career was full of achievements, from high school to the collegiate ranks at the NCAA Division I level. McCormick was a two-time All-American for the Missouri Tigers.
This past season at Missouri, McCormick went 7-10 while finishing 2nd in the Big XII tournament and qualifying for the NCAA Division 1 tournament in an injury ridden senior season.
While at Missouri Tyler showed great leadership skills and was named team captain three times, won Hap Whitney Coach's Award in 2008, and the Ed Lampitt Total Tiger Award in 2007. He also won the UM Most Improved Wrestler in 2006, the Marshall Esteppe Most Outstanding Freshman Award in 2006, and was a National Strength and Conditioning All American in 2007. Tyler ended his career with a record of 77-43, was named the Feb. 21, 2006 Big 12 Wrestler of the Week, and named to the Inter-Mat All-Effort Team in 2006 and 2007.
At Blue Valley North High School, McCormick was three-time state placer, winning a title and becoming NHSCA All-American at 125 pounds as a senior. He had a career record of 142-30.
While in high school and college Tyler won many Academic All-American Honors and Academic Excellence Awards. He received an NCAA postgraduate scholarship and 2007-08 Prentice Guatt Big XII postgraduate scholarship. He currently has one year of graduate school for his MBA then has plans to go to Law School